Why Not Easily Double Your SEO Traffic With Just a 15 Minute Setup?
Introducing The Breakthrough SEO Robot Most Businesses, Bloggers & SEOs Should Use
Easily build trust & rank for every city you serve with our super-optimized and expandable local portfolio of your projects, testimonials, reviews & references
Easily request valuable feedback & testimonials, intercept negative feedback, & boost rankings by enabling happy customers to easily generate five-star reviews for you on reviews websites ~90% of consumers reference when deciding
Easily run next-level SEO A/B tests & regular A/B tests (post/page-level & site-wide) to increase search result click-through rates (and thus also rankings & traffic) and conversions with our FREE A/B Tester & SEO A/B Tester
Easily find value-optimizing keyword-to-page combination matches from trillions of potential options with our breakthrough patent-pending algorithm. Optionally auto-optimize your pages from them or use them with Yoast for even better results. Our robot can also give content & SEO A/B test suggestions.
Easily boost your best posts' rankings & traffic through link sculpting with our FREE SEO-traffic-"popular" posts/products widgets & archives
For web designers, SEOs, web hosts, affiliates & white-label version resellers, do more for clients & earn over $4,500 per successful customer (over 6 years)
"We...have received tens of thousands of dollars of work from new clients using the Best Local SEO Tools plugin, and one of our clients has received hundreds of thousands of dollars in revenue from leads through it. That's part of why we funded it."
- Bill Musial, CEO of Mopdog
Strong results like below are typical & usually show in about 7 days!
AVSolutionsAtlanta.com
After:
Home Theater Installation Atlanta 1st page
Home Theater Installation Cumming GA 1st page
Home Theater Installation Dunwoody GA 1st page
Home Theater Installation Sandy Springs GA 1st page
Home Theater Installation Woodstock GA 1st page
Home Theater Installation Milton GA 1st page
Home Theater Installation Johns Creek GA 1st page
Home Theater Installation Duluth GA 1st page
Home Theater Installation Suwanee GA 1st page
Home Theater Setup Cumming GA 1st page
Home Theater Setup Sandy Springs GA 1st page
and similar for other served cities

Before:
Home Theater Installation Atlanta > 10th page
Home Theater Installation Cumming GA > 10th page
Home Theater Installation Dunwoody GA > 10th page
Home Theater Installation Sandy Springs GA>10th page
Home Theater Installation Woodstock GA > 10th page
Home Theater Installation Milton GA > 10th page
Home Theater Setup Cumming GA > 10th page
Home Theater Setup Sandy Springs GA > 10th page
Mopdog.com
After:
Web Design Kennesaw Georgia 1st page
Web Design Cartersville Georgia 1st page
Web Design Sandy Springs Georgia 1st page
Web Design Canton Georgia 1st page
Web Design Powder Springs Georgia 1st page
Web Design Druid Hills Georgia 1st page
Web Design Suwanee Georgia 1st page
Web Design Decatur Georgia 1st page
Web Design Acworth Georgia 1st page
and similar for other served cities

Before:
Web Design Kennesaw GA 3rd page
Web Design Cartersville GA > 10th page
Web Design Sandy Springs GA > 10th page
Web Design Powder Springs GA > 10th page
Web Design Druid Hills GA > 10th page
Web Design Suwanee GA > 10th page
Web Design Acworth GA > 10th page
Detailed Features & Pricing
Welcome to the Next Generation of SEO Tools!
Stay Ahead Of The Curve as Clickthroughs Impact Rankings -- Next-Level SEO with our FREE & Easy SEO A/B Testing & Regular A/B Testing Tools
We've heard of how SEO A/B testing can help get a quick 50% increase in SEO Traffic, but who wants to do a difficult technical implementation and spend $8,000 per month to try stuff when they can do it with Best Local SEO Tools for free? With our tool, SEO A/B tests and even regular A/B tests are free, and there's no need to hire a programmer to install javascript codes or route all of your website's traffic through somebody else's CDN. It also easily integrates into publishing workflows as a/b test suggestions are shown in the editor screen, and seo a/b tests & a/b tests can be easily set up to run in the editor screen for new posts as well. While easy, our plugin is also developer-friendly and lets developers specify experiment blocks in their code with PHP. The editor in premium versions can also show suggestions of keywords to work into your content to maximize SEO based on an automated analysis of your content and keyword search data. This can also help bloggers and journalists to better craft their post / article to contain information that people are curious about.
Showcase Your Work & Testimonials to Rank In Every City Served with the Technology the Big Directories Use
Big directories like Yelp, YellowPages & Angieslist rank in lots of cities because their content is organized into an optimized directory page for each city with strong internal linking. This plugin levels the playing field for small businesses, as it can automatically do the same for your site in the area you serve with your portfolio, projects, clients & testimonials as your expertly & automatically search engine optimized local content in a convenience-adding/value-adding and useful locally browseable hierarchy that lets website users find nearby customers of yours for a reference. Premium versions also contain a patent-pending portfolio auto-optimizer technology to help you get the most traffic out of that cotntent as well. Just install the plugin, set your key phrase, location and service radius, add portfolio items, and you can start watching for the earned traffic to start quickly flooding in! It's even designed to also help improve your rankings in "map-pack" listings after Google's Pigeon update gave much more weighting to organic signals, and as your business grows, your portfolio can easily grow and expand with your service area and your business. You can also use it as an easily-sortable traditional portfolio as well.
Easily Boost Your Blog / Online Store Traffic With Our Booster Technology, and Easily & Reversibly Try New Things On Your Under-Performing Posts & Pages
Like many have been raving about, sculpting your site's pagerank is a great way to increase the traffic to your blog or shopping cart by doing a better job of letting your users and Google know what content on your site is the most important. Our FREE Blog Booster & Ecommerce Booster widgets automatically track your best posts from an SEO traffic / lead generation / sales generation / profit generation performance standpoint and features them in a popular / featured posts and/or products widget and in a special archive ordered by their SEO traffic popularity. This not only lets users easily see what is the top content on your site, but also directs more "link juice" to your most important content, thus drives up the pagerank of that content, and thus helps that most important content to rank higher. Our premium system also includes additional features, like helping you take posts and products that aren't generating significant SEO traffic and testing optimizing them for other intelligently selected keywords instead, so you can get back to focusing on making great content for your readers instead of dealing with the tedium of SEO.
Deeper Keyword Selection Analysis & Recurring/Future Content Optimization with our Mathematical Breakthrough, Patent-Pending AI
Based off of an algorithm that can quickly find ideal keyword placement matches out of trillions of potential keyword-to-page combinations, the AI portion uses a specially enhanced computer-matching algorithm on your site's content to match keywords to optimizeable page content like title tags, URLs, meta tags, img alt text, and internal anchor text and more using extremely advanced and deep analysis. It can quickly find and configure a weighted mathematically state-of-the-art-optimal setup using our algorithm, factoring in factors like keyword importance, keyword value, keyword search volume, estimated page pagerank, keyword competitiveness, and keyword coverage on other pages and more! Finally, it is going to give you suggestions on keyword terms that would probably be good for you to work into your site's content. A human can then further work it's suggestions into the pages with something like Yoast to do even better. As you add new content or as monthly fluctuations occur, with premium versions, the AI can also automatically re-optimize your site, which can create an enormous value and time-savings for business owners. This is especially important as large swathes of pages from your site may fall out of Google's main index or be added to Google's main index from one month to the next, which could otherwise cost you up to 50% of your potential traffic, leads & sales from SEO if your site isn't re-optimized like what the premium version AI can automatically do for you each week. On a typical website, there are more potential keyword to placement options / combinations than there are atoms in the known universe, and our algorithm can quickly find and implement ideal matches for you out of that many combinations! If for whatever reason you don't like the work it does, you can also easily reverse all of it by deactivating the plugin or instead just exclude certain pages from being auto-optimized by it.
Easily Get Feedback & Generate Five Star Reviews
The Reputation Builder included in premium versions is a great way to request and generate great & authentic online reviews, and is built into the plugin. The system allows you to request testimonials and / or reviews from customers on a landing page on your site. You can mail customers individually or en masse to leave you feedback, or even set up a feedback kiosk in your store. You can then moderate their review and testimonial for publishing on your site, and if their review score is above a threshold that you define (ie 4 stars or higher), after submitting their review / testimonial on your site, you can automatically prompt them to review your business on other reviews sites you have specified like Google, Yelp & more, with easy-to-click links to your profiles for them to quickly review you there! This helps you generate authentic, positive reviews online and increases your credibility with Google and other sites. Surveys have shown having such reviews to be another way to rank higher in Google as well. If the customers rating of their experience is below your goal rating, you'll have a chance to know it and reach out to them before they leave a bad rating for you online somewhere. Online reviews have also repeatedly been shown by studies to be a huge factor in what businesses consumers choose to work with. With our Reputation Builder, you'll be able to not only improve your business with feedback, but also help generate the online social proof that potential customers are looking for.
Keep Your Site Content Fresh with its Next Generation Portfolio Of Your Work & Testimonials
You can also use the system as a site's main portfolio as it is designed to be extensible and themeable using Wordpress' built-in template hierarchy and taxonomy systems. The system is thoroughly extendable so Wordpress developers and designers can easily integrate it into their existing workflows, and it also can work with Advanced Custom Fields on its localproject post type. Already have a portfolio? You can use a plugin to switch its post type to localproject, and then merge your portfolio into this plugin (probably with some minimal theme adjusting required as well).
Be Found in Maps with Our Maps Ranking Booster
Integrating Schema code into your website helps search engines to know your company's location so it can be shown in map results. Our plugin gives you the ability to easily add that kind of code to your website with information like your address, phone number, company description, and book, reserve and menu actions to help your business show up well on maps for searches and on the local business information cards of information used by search engines for local searches.
Get it Today
You can click to download the free plugin below, and easily order premium features upgrades (enabled with a software subscription key in the plugin) as you need/want them. Don't have a Wordpress site? You can easily make a Wordpress-based portfolio site online for like $5/month at most web hosts, link to it from your main site's home page, and then use the plugin on that site / domain. For tips on how this works best and what else you can do, you can check out our tips section here. So what are you waiting for? Please give it a try today!
10 Ways A.I. is Revolutionizing SEO by Best Local SEO Tools
1) Intelligent Automated SEO A/B Testing
As it requires so much manual and time-consuming work to do, almost nobody does SEO A/B testing (testing one version / title against another to find the best version). However, this testing is now especially valuable as rankings have become more determined by search result click rates. Best Local SEO Tools' robot makes it easy for SEOs, businesses & bloggers to run these, and can even intelligently help come up with ideas to try, which one can then easily make tests from.
2) Extreme Keyword & Content Analysis for Better Keyword-for-Page Decisions
We developed an advanced artificial intelligence system for optimizing your website using a custom algorithm we developed and filed a 101 page patent application for. It is based upon the principles of the Hungarian Algorithm which can quickly find value-optimizing matches between more than trillions of trillions of potential combinations (here is an example of how that works). For a typical website, there are more potential keywords-to-pages combinations than there are grains of sand on earth, and for a 30-page website -- more potential combinations than there are atoms in the known universe! Fortunately, there is an algorithm that can quickly find the optimal matches in such a large dataset which is called the Hungarian Algorithm. Unfortunately, this algorithm doesn't really work well for SEO because one term can contain / cover multiple terms, and one page can cover multiple terms, and optimizing a page for one term affects the potential value of optimizing other pages for other terms as that term has now already been "covered" and its future value when used is thus going to be less than before. In order to find optimal keywords for pages on your website, we invented an iterative & recursive approach to applying the Hungarian Algorithm, which we use to find improved results beyond what a Hungarian Algorithm would provide. Our AI can optimize title tags, URLs, meta tags, image alt text, internal anchor text, pagerank sculpting and more using advanced analysis to find a mathematically optimized setup, factoring in factors like keyword importance, keyword value, keyword search volume, estimated page pagerank, keyword competitiveness, keyword coverage in content and more! Before this product, we know of nobody even mentioning applying a Hungarian Algorithm to SEO, let alone to automate SEO, let alone our iterative further improvements which we have named the AlRose Fremer algorithm, in honor of the founder's parents.
3) Automatic Optimal Pagerank Sculpting
Pagerank sculpting is the practice of architecting links to pages on your website based on their importance. If search engines think that a page is important, it will rank higher. If they don't think it is important enough, it might not even be indexed by the search engines! How can a small business know how much pagerank needs to be passed per page, especially as their website's pagerank changes over time? No worries -- our blog boosters and ecommerce boosters can automatically help with that, and we also have a patent-pending automatic system for that built into the local portfolio to help keep that content well-indexed as well!
4) Automatic Optimal Content Arrangement
Sometimes there are just best-practices for SEO for certain business types & content types, and software can remove the technical complexity of implementing them by just automatically taking your content and formatting it with a best-practice. Our software, for instance, automatically does this with small business reviews, testimonials and showcased work.
5) Automatic Site / Content Optimization
If an old-school SEO guy optimizes your website, and then you change your services pages or add new posts to your blog, your site's already no longer optimized. With AI-assisted SEO, you or your SEO guy can keep your website decently optimized even as you add new content.
6) Image Content Recognition & HTML Tagging
Tagging images is a lot of hassle. Our AI can automatically detect what is in the images on your website and describe it in terms of what it contains with a focus on what terms the page it is on is being optimized for.
7) Automatic Intelligent Internal Linking
Google has indicated that internal linking can help websites to rank higher. Our plugin automates this process intelligently for users, for instance, by linking the phrase "drain repair" in a page's content to the website's page being optimized for "drain repair".
8) Intelligent Content Development Suggestions
Write great content they say, but it's hard to know what to write about, especially if you're a small business. Did you already cover a certain keyword with content you've already written to the point that a different keyword is better? Our software can automate deep keyword research and give you great suggestions for topics to write about or focus optimization on.
9) Feedback & Review Request Automation
Getting reviews as a business is hard, and consumers are relying on the ratings of businesses to make their decisions. Asking for feedback and tracking that feedback by location/employee and asking the happy customers to leave a review at the right URL that's easy for them to reach can be tedious. Our software gives an automated system for requesting feedback and reviews, and it can even be configured to intelligently request reviews just from customers who are already happy with your service, while giving you a chance to make things better with unhappy customers before they spread bad reviews about your business online. Good feedback can also be fed into our local portfolio system on your site to help strengthen your site's SEO -- especially for local rankings.
10) Removing the Buy-Before-You-Try SEO Risks
If for whatever reason you don't like the work our robot does, you can also easily reverse all of it or exclude certain pages from being auto-optimized by our software. It's also free to try so you have like no risks. A free version is available, and it only takes like 15 minutes to set up!
Please share/discuss this breakthrough article with the infographic embed code below. Whether you think the article or our new plugin and technologies are great, only somewhat great, or something else, please give us a review on your blog!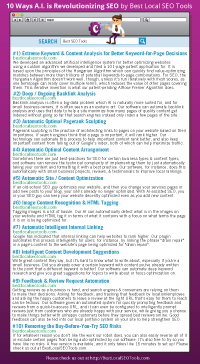 or please share a link to the article ( http://www.bestlocalseotools.com/#10ways ):

Reseller-Friendly Version!
You can download our white-labeled version (called Pro Local SEO Tools), charge clients whatever you prefer, and refer them to ProLocalSEOTools.com for product information. Our white-label version removes the Best Local SEO Tools branding and the references to the automatic optimizer and moves the settings to the bottom, so you can stay more fully in control of your client's experience. As clients need new keys or upgrades, you can just purchase them at BestLocalSEOTools.com and put them into the plugin to make it work and bill them what you like. As an affiliate, you can also get like a 50% commission on your reseller key orders with us and get a listing in our local implementers directory as well!
You Can Get It Today!
The free version includes the free A/B & SEO A/B Tester, the powerful local portfolio, the basic reputation builder, the basic blog / ecommerce / maps boosters, and a home-page optimizer for proving the plugin works. Results are usually visible in a week!
Download The Plugin